Skip to Content
Highlights Lowlights Foil
Achieve Your Hair Goals With Our Highlight and Lowlight Services
If you're looking for an easy way to refresh your hair with a quick pop of color, Pathos Salon Boston has the perfect professional solution for you. Our highlight and lowlight services are an excellent way to bring new life into your current style without a drastic transformation. Whether you're looking to add dimension, volume, texture, or glow, we can use professional foiling to achieve your hair goals. Give our team of professionals a call today to book an appointment or learn more about our highlight and lowlight services.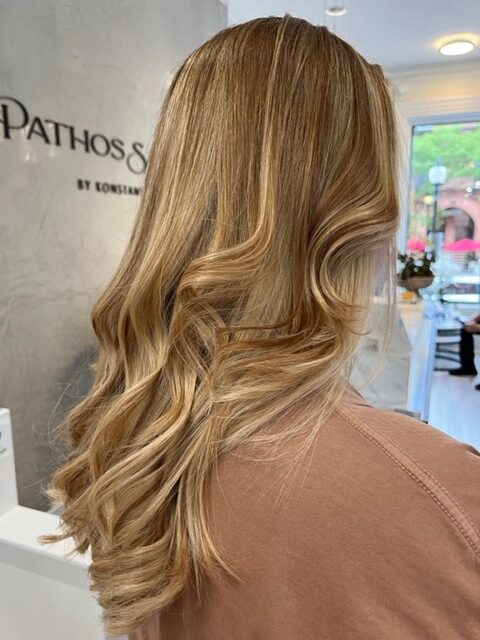 Learn More About Our Color Treatment Options
The hair color technique we use at our salon is known as "foiling." Our stylists achieve a lightening effect by painting color onto strands of your hair from root to end. We can provide highlights, lowlights, or a combination of the two. We are committed to creating a look that exceeds your expectations while promoting long-term hair health. Take a look at our services and don't hesitate to express your thoughts, ideas, and concerns during your appointment:
Highlights
This popular color option creates a pop of color that is lighter than your color base. With our foiling technique, you can achieve the glowing, sun-kissed look of your dreams.
Lowlights
As the name suggests, lowlights are used to add a shade of color that is darker than the rest of your hair. This provides dimension and depth to help combat flatness and fading highlights.
Babylights
Our "babylights" technique creates a delicate, natural blend of color to achieve a sun-kissed look. We achieve this subtle effect by utilizing smaller sections of hair than those used in normal highlights.
Contact Our Stylists Today to Book an Appointment
If you aren't sure which route to take on your hair color journey, there's no need to worry. Our stylists are highly trained and ready to offer our professional advice. We've truly seen it all and are confident we can help you find the perfect solution for your unique hair needs. If you're ready to get started, so are we! Give us a call today to book a consultation. We're excited to help you refresh your look and feel like the best version of yourself.
Book a Consultation With Our Creative Professionals Today